Templated organizations based on dataset values
Organization templates allow you to quickly roll out similar scorecard structures to multiple organizations. When your organizations have dataset KPIs, this process is even easier.
In this example we have an organization called "Templated Sales Example" that has two KPIs. "Number of Sales" tracks the total number of sales over time, and "Sales $" tracks the value of sales over time. As you can see here, there were $797,000 in sales in July 2021.

We're going to click on the organization name on top to expand the organization pane, and then put the organization tree into edit mode by clicking on the Edit button on the bottom. Then we'll click on our "Templated Sales Example" organization and choose "Copy as Template".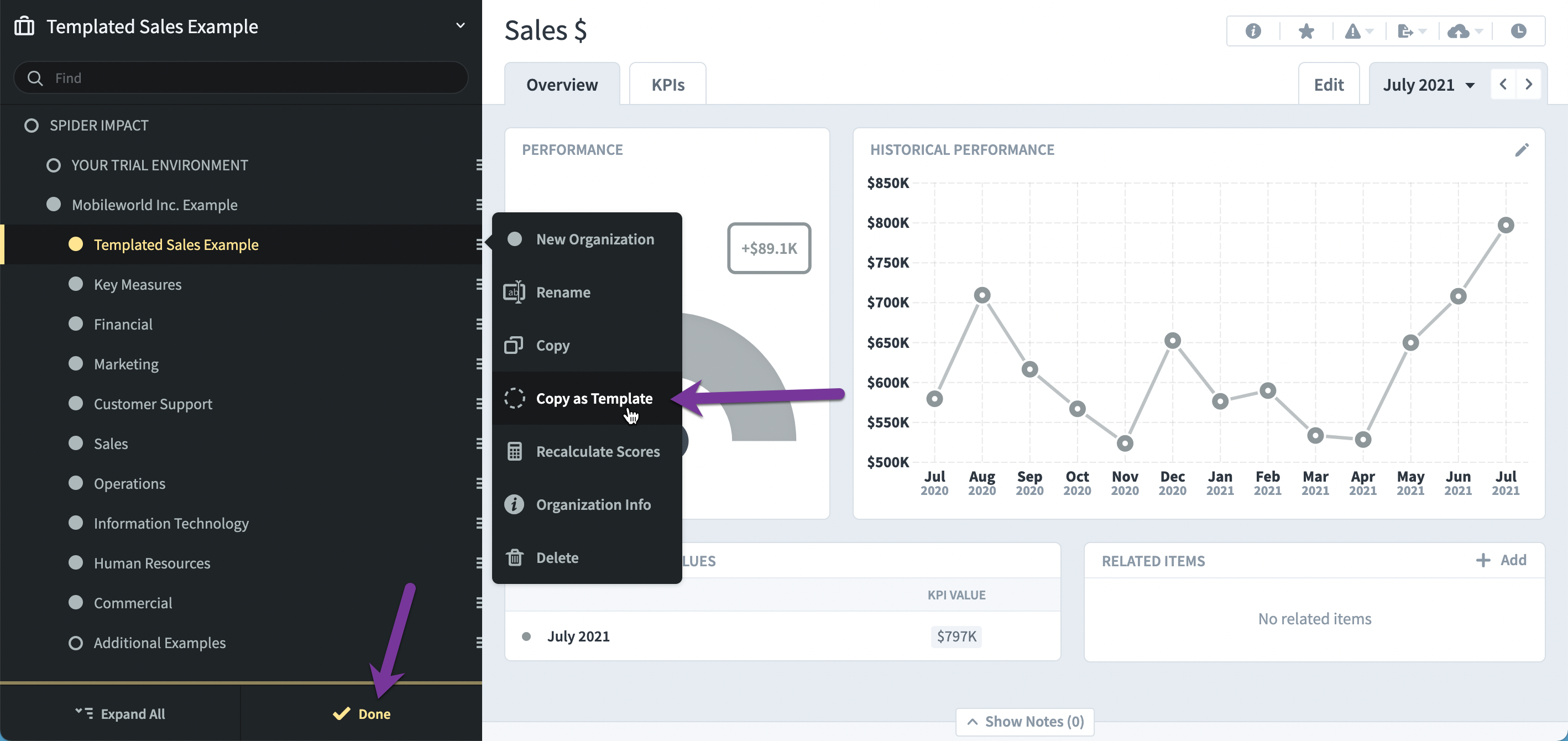 This opens the new template dialog. The first copy option would create a single copy of our organization. The middle option does the same thing, but would also copy any descendant organizations that we create later. We're going to choose the third option to "Create a copy of 'Templated sales example' for every value of a dataset field".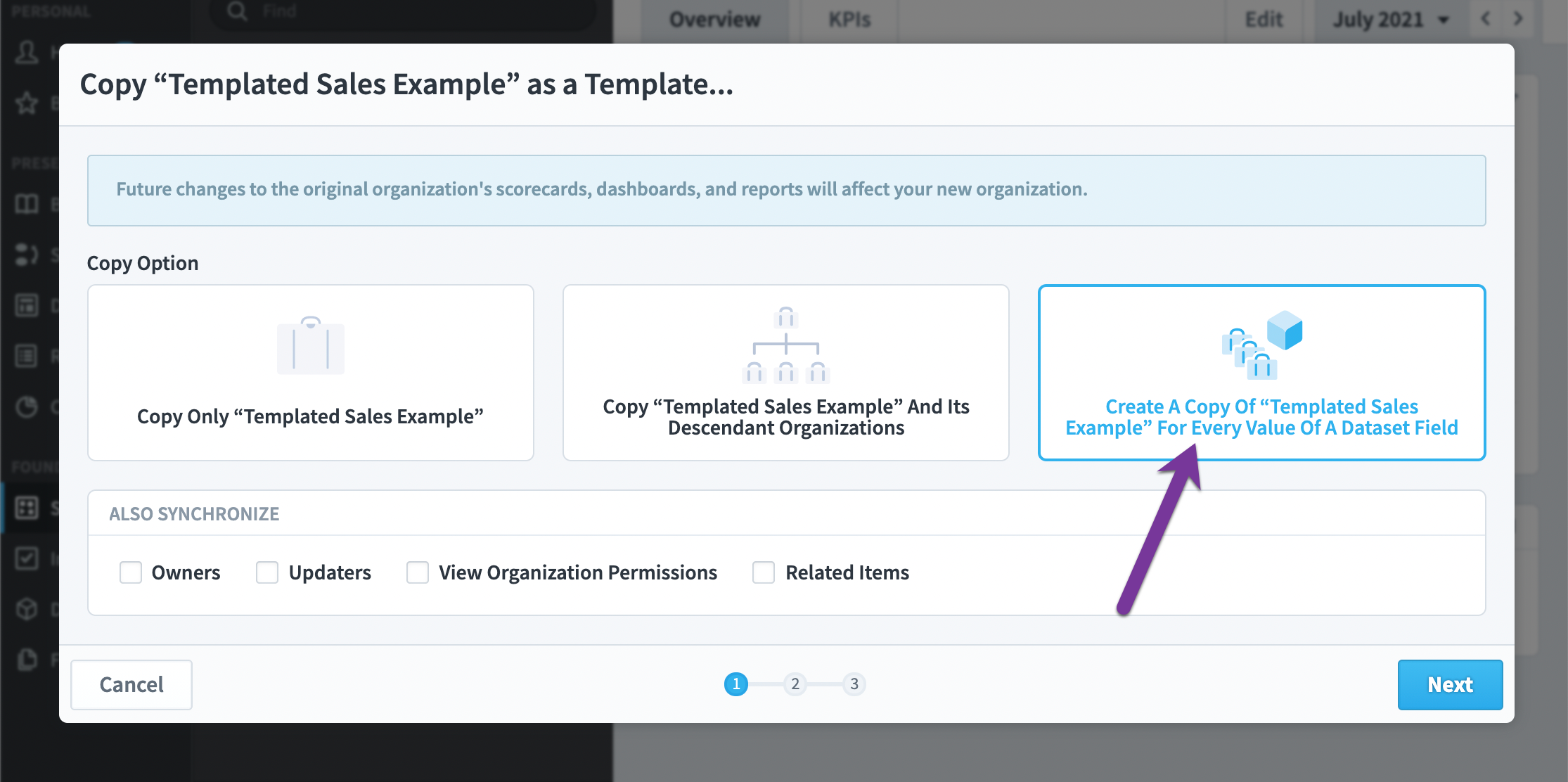 Our two KPIs are created from the Device Sales dataset, so we'll choose that here. We'll also choose the Sales Employee field. If we decide to not add any filters, Impact will create a separate organization for every sales employee.
Finally, we're going to add a filter to only include records where the sales department is Retail. When you apply a filter, it restricts the records, which in turn can restrict the number of organizations that are created. So, rather than creating an organization for every sales employee, we're going to create an organization for every *retail* sales employee.
The one exception with filters is rollup trees. If the filter is for the same rollup tree field as the field you're using for the template, the filter restricts the organizations you create, but the descendant totals are always used for the KPIs.
The last step in the wizard is to optionally add prefixes or suffixes to the names of templated items. We'll just click Copy.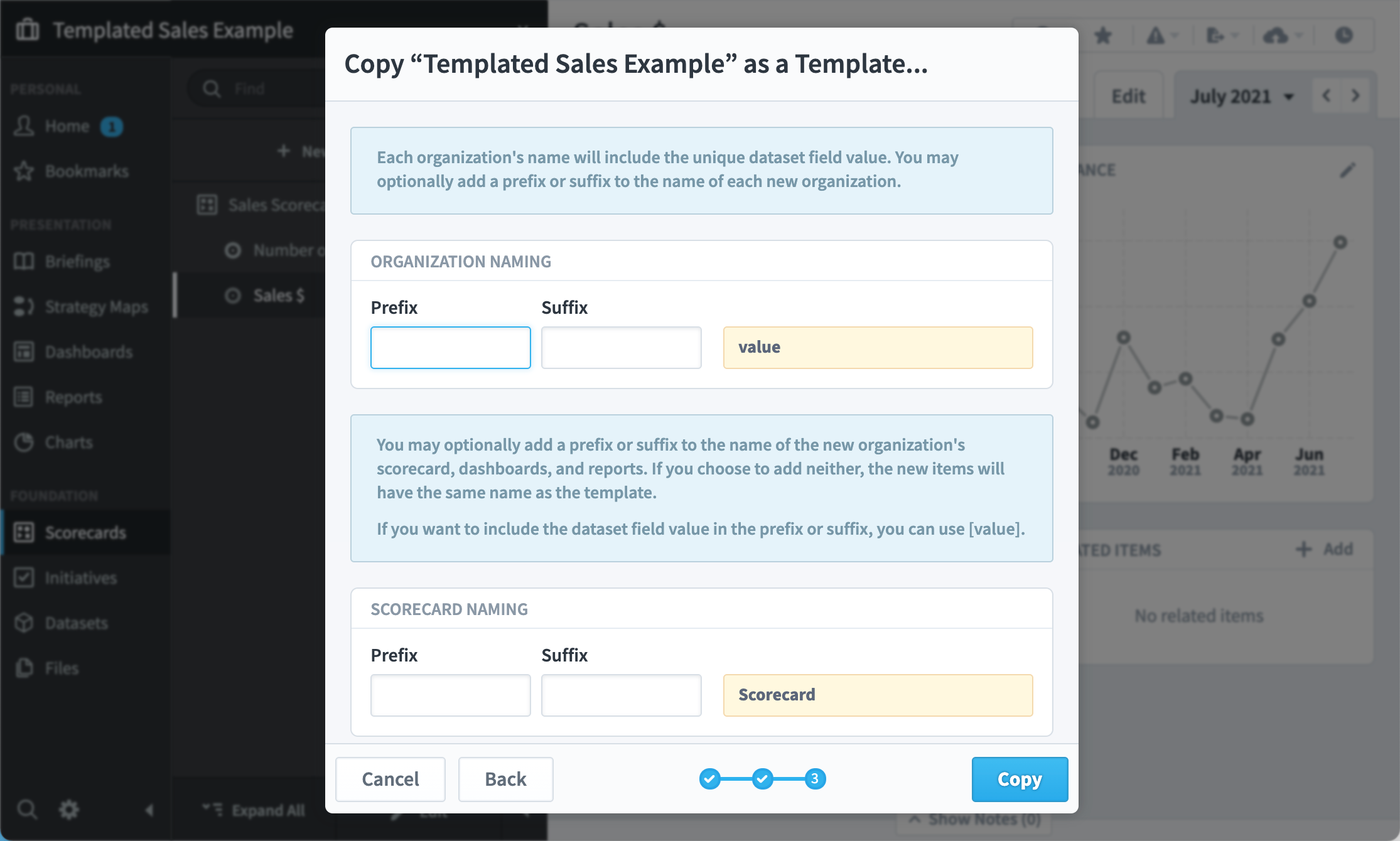 After a few seconds, new organizations start to appear in the organization tree underneath our template. There are 6 organizations, one for every retail employee.
When we click on Delphine Calmes, we can see that the KPIs now show data specific to that employee. Delphine had $53,000 in sales in July 2021.

Just like with all organization templates in Impact, you can create additional KPIs in the template and they'll be automatically copied to the templated copies. You can also create KPIs in the templated copy organizations to track things for only that organization.