The Basics
In the Scorecards section we track KPIs and strategy. You define what you want to measure, and then you measure the same things month after month, year after year.
Initiatives are different. They have a specific start and end date, and they often are put into place to correct the performance of a scorecard item. For example, in the balanced scorecard methodology, Initiatives are put in place to fix poorly performing Objectives.
Overview Tab
The Initiatives Overview tab gives you a good feel for the overall performance of your initiative. Spider Impact will predict whether your initiative will be on time and under budget.
Predicting Budget and Schedule
Spider Impact uses Earned Value Management (EVM) to predict whether your initiatives will be on time and under budget. We've put together an entire article on EVM to explain exactly what's going on behind the scenes.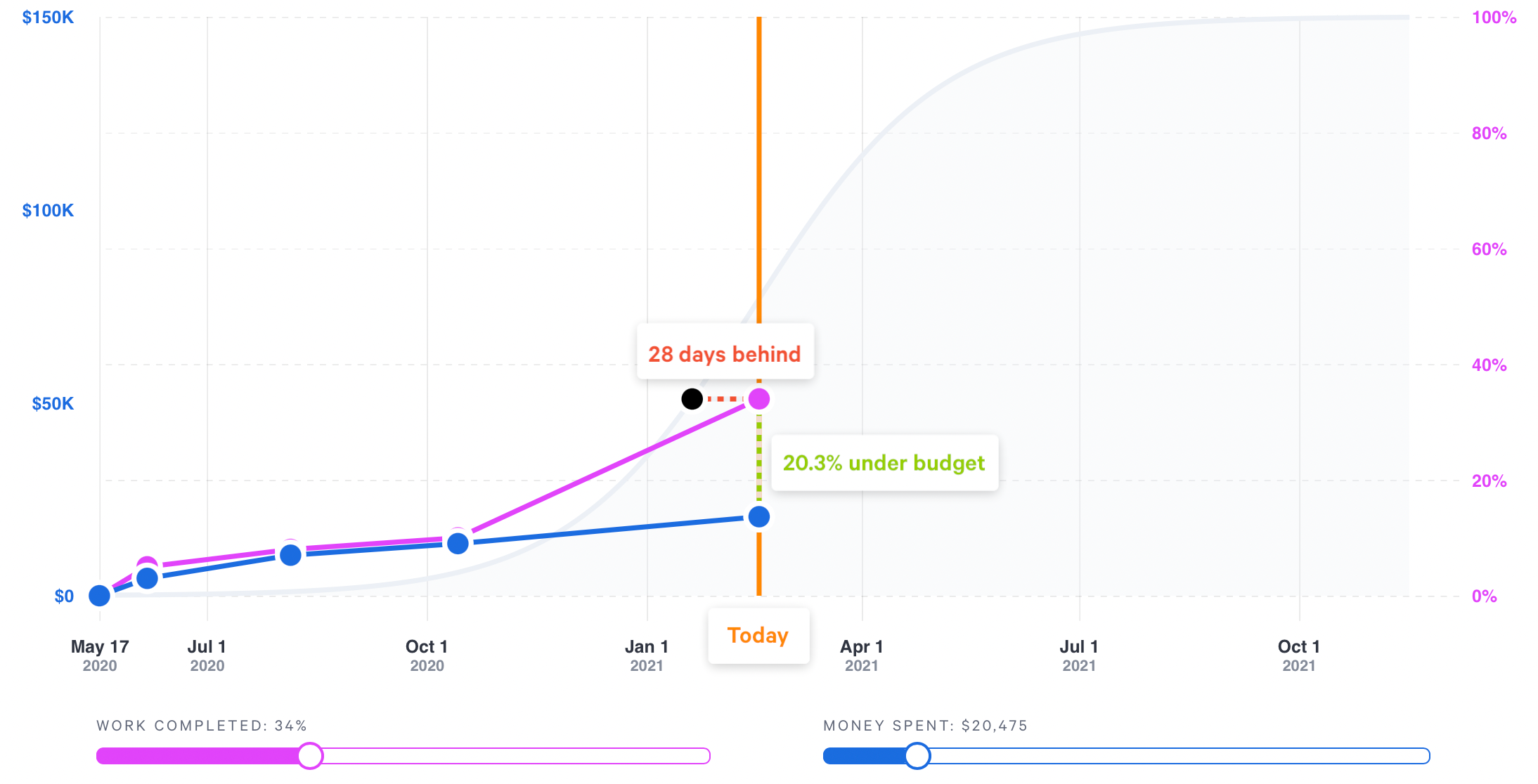 Changes to Key Numbers
In an effort to promote transparency, whenever an initiatives's start or end date is edited, that information is displayed next to the new value on the overview tab.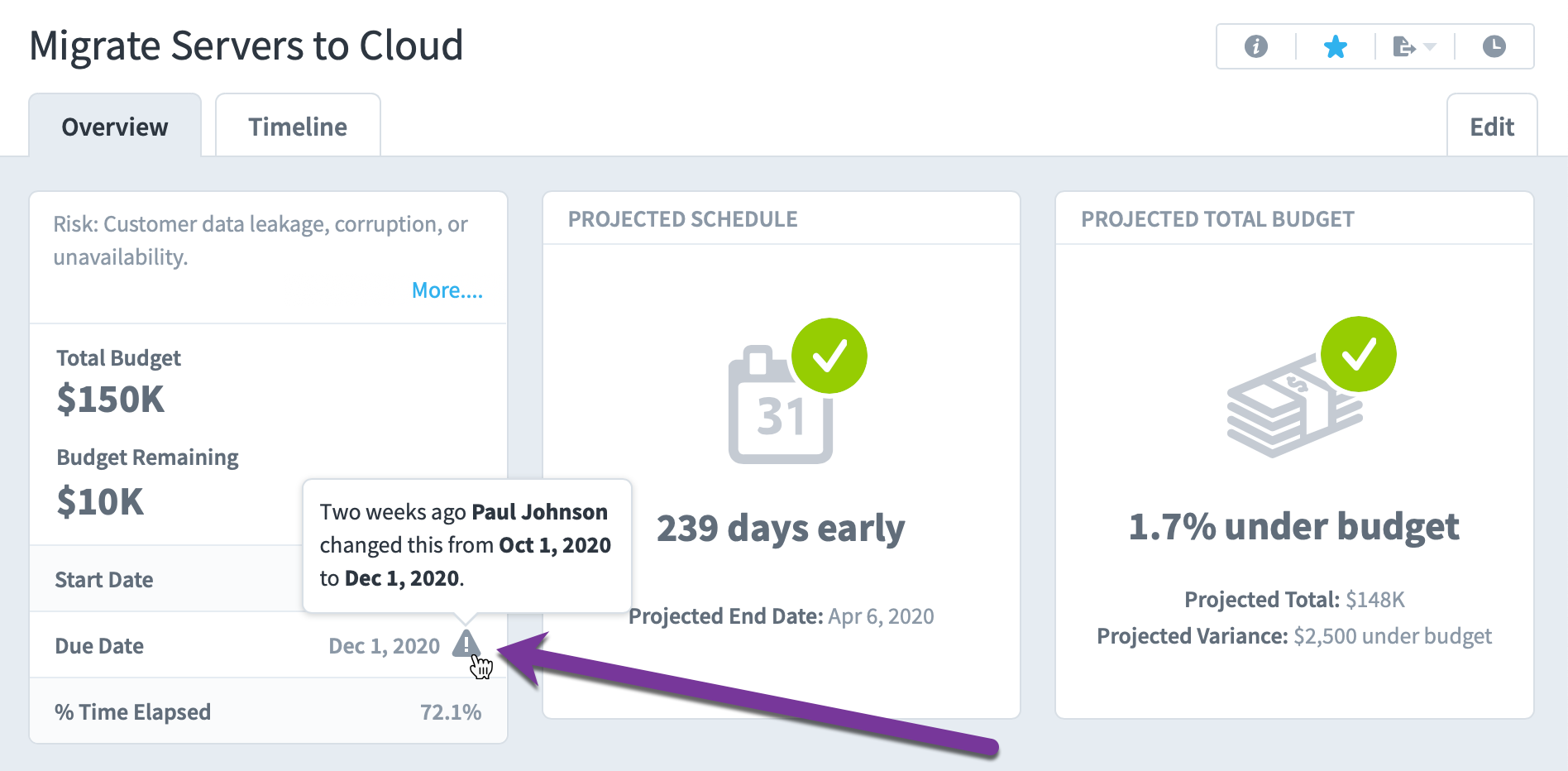 Projected End Dates in the Past
Spider Impact automatically predicts when an initiative will be finished and what its budget will be at completion. These predictions start to fall apart, however, when initiatives don't get regular status updates.
It can get particularly confusing when a projected end date is in the past. This can happen when the last status update is so long ago that the initiative has probably ended by now. To avoid this confusion, there's an indicator next to projected end dates that are in the past, and when you click on it, there's a tooltip explaining what is happening.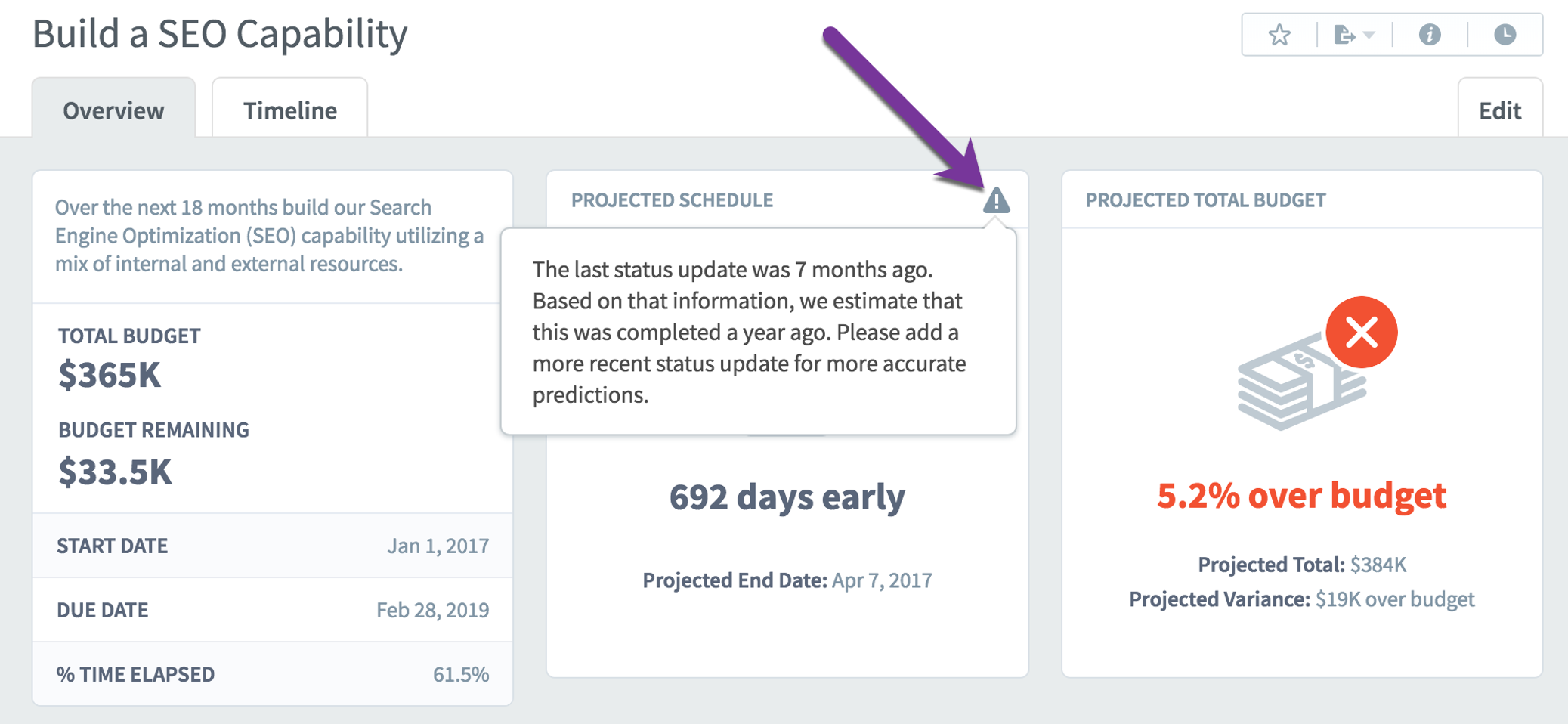 Timeline Tab
The Timeline tab shows you a fully interactive Gantt chart view of the current organization's initiatives.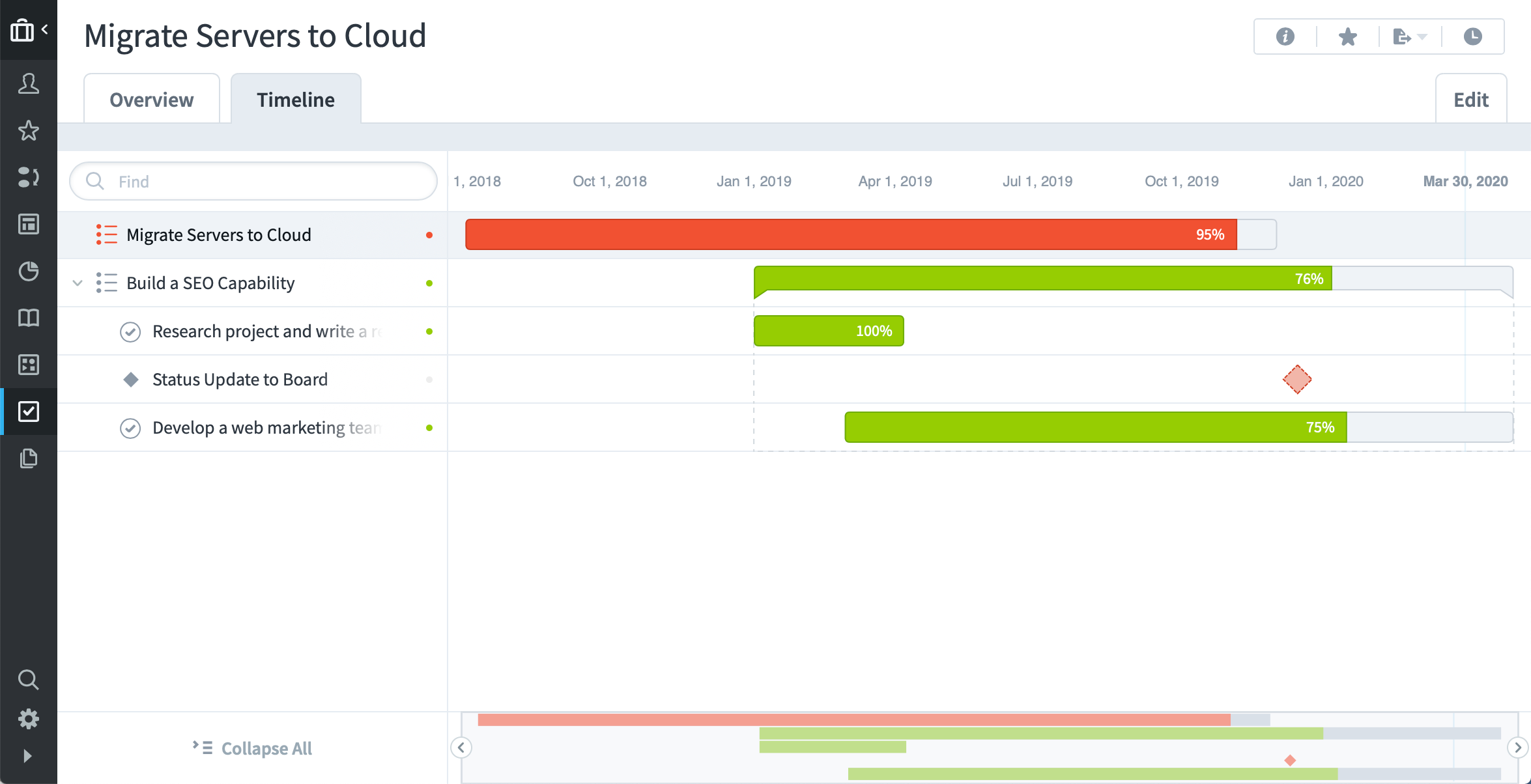 Just like everywhere else in Spider Impact, you can expand and collapse the initiative tree on the left. There's also a timeline navigation bar on the bottom that allows you to zoom and pan through time.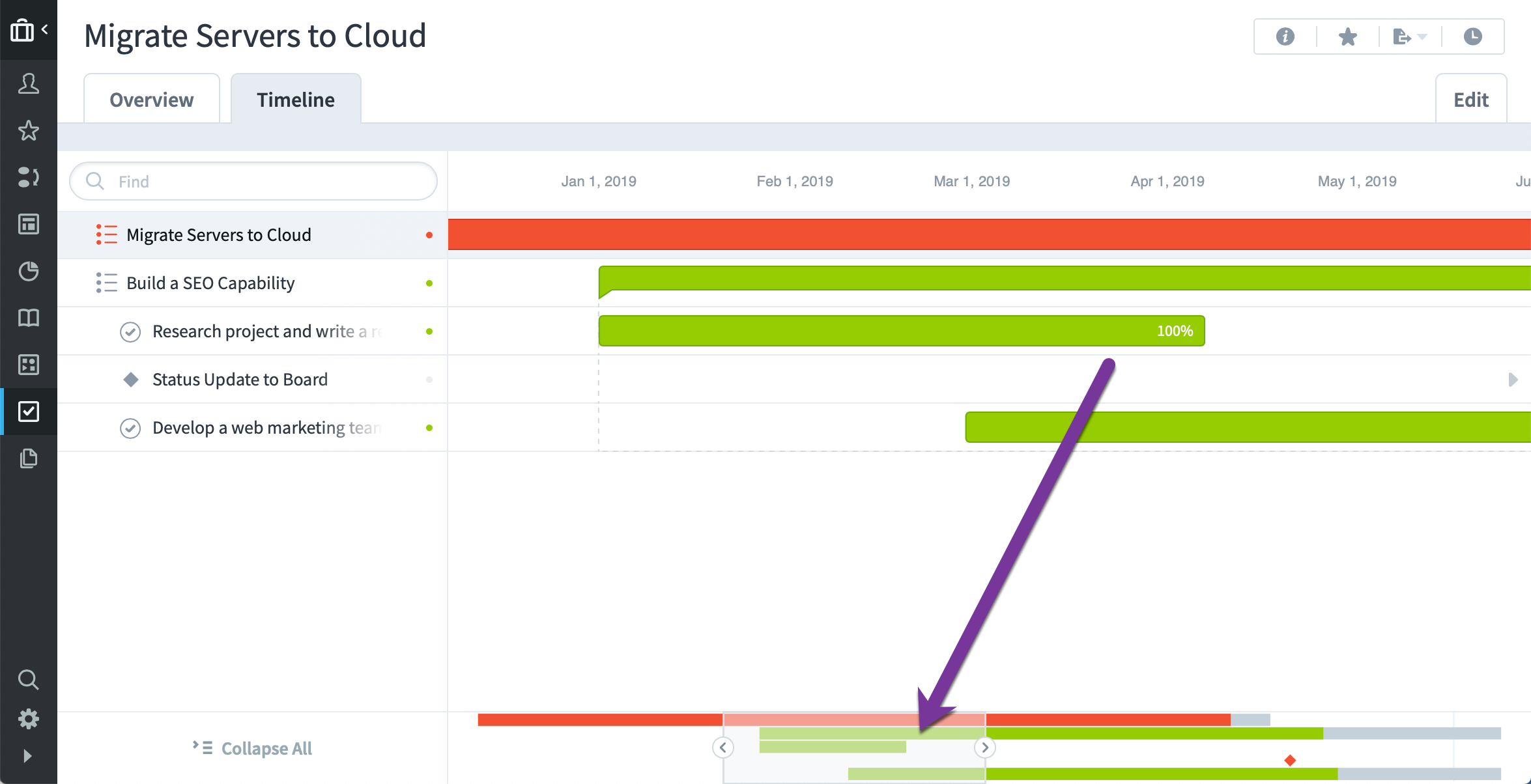 If you click on any of the initiative items in the Gantt chart, you can see detailed information about that item, like its description and the projected budget and schedule performance.